Creating A List With Screenshots
Only create a new list if you're organising a set of talks. If you're looking to experiment, use your own personal list.
First click the link in the left-hand bar: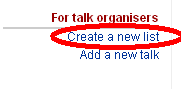 You'll be taken to this page:
Guide text will appear in yellow boxes on the right-hand side of the screen. Note the highlighted tick box at the bottom; if this is ticked, then the list won't be included in our index or randomly selected lists. However, it will still be found by Google and similar sites.